Any Season Heating & Cooling Inc. did great job on installation Air Conditioner in Arlington Heights Illinois on May 6th 2019, we arrived at costumer house at 9 am and started the job by recovering the R-22 Freon from the old air conditioner unit, after recovery is done we start removing the old R-22 Freon AC unit and installing new Air Conditioning unit that contain 410-A Freon. With in few hours the new American Standard AC unit was up and running. Any Season Heating and Cooling provide excellent job at affordable prices for new Air Conditioner installation in Chicago area, Please feel free to contact us at 847-766-9654 for all your Heating and Air Conditioning needs or scheduled your appointment online now.
We are full service HVAC company serving Arlington Heights Illinois and surrounding area, Any Season Heating & Cooling is a licensed & insured HVAC Company, we are expert Heating and air conditioning company that serve residential & commercial businesses in Arlington Heights Illinois.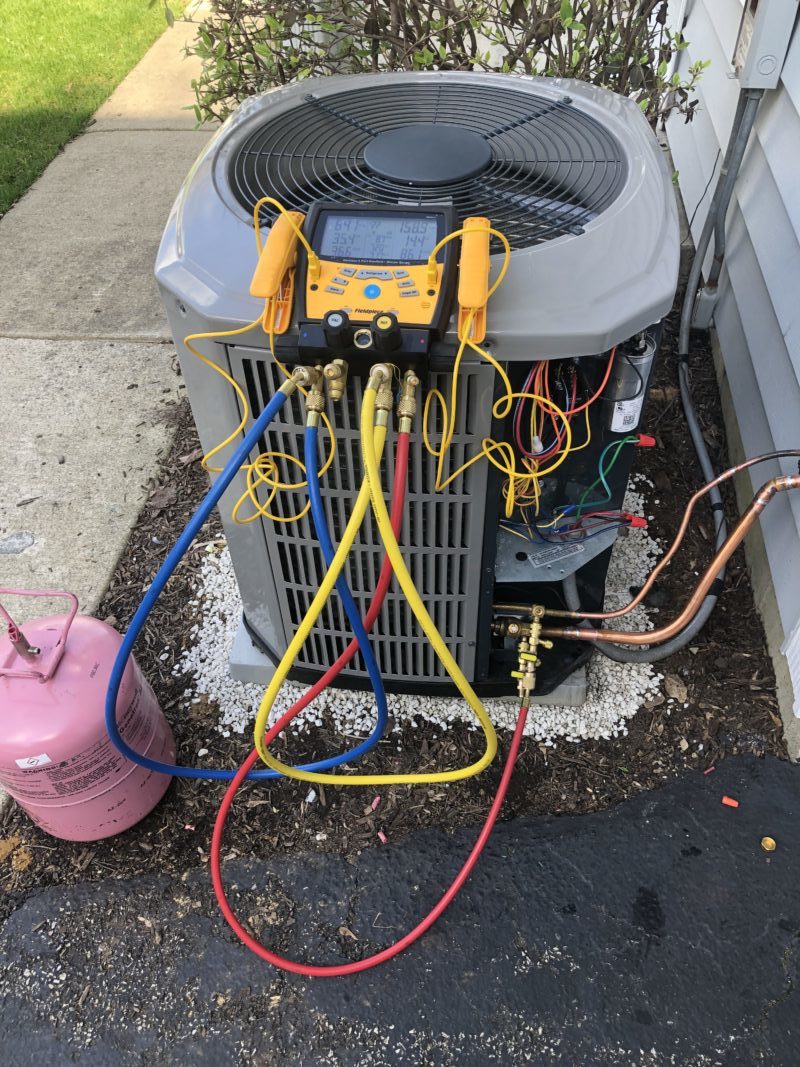 Expert HVAC Services Chicago.
Any Season Heating & Cooling provide expert HVAC services Chicago at affordable price, we can guarantee to repair Any Heating & Air Conditioning system as will we provide parts and labor warranty on all parts we install.
Heating & Air Conditioning Installation
If looking to replace or install new furnace or complete HVAC system? We can do it all at low cost, we are TRANE HVAC primary dealer and can help with partial Heating & Air Conditioning Installation or to complete full HVAC Installation, we can offer:
Air Conditioner Arlington Heights Illinois
Electric or Gas Furnace Installation
AC Installation
Full HVAC Installation
Humidifier Installation
Duct Installation & Duct Cleaning
Electronic Air Cleaners
UV Air Purifier Installation
Our Air Conditioner Arlington Heights & HVAC Services:
AC Maintenance
Furnace Maintenance
Boiler Maintenance
AC Repair
Furnace Repair
Boiler Repairs
AC Installation
Furnace Installation
Boiler Installation
HVAC Maintenance
HVAC Repairs
HVAC Installation
Expert Air Conditioner Arlington Heights Illinois and surrounding area: Des Plaines, Morton Grove, Glenview, Park Ridge, Niles, Mt Prospect, Arlington Heights, Rosemont…
24 Hour HVAC Service in Chicago's Metro
Any Season Heating and Cooling Inc. has been providing top-quality air conditioner, boilers and furnace services in Chicago's metro for long time. Our ideals of truth, morality, teamwork, and responsibility direct all of our actions. As a result, Any Season Heating & Cooling Company are the only Illinois HVAC company in the Chicago area to win the Top Business List Gold Award. Top Business List has documented us with its Top Service Honors in 2020 through 2017. Furthermore, we hold best ratings at HomeService.org and the Best Businesses Organization. As well Any Season is a certified with the Environmental Protection Agency. When you choose us, you will be able to access to 24 hour emergency HVAC service, expert HVAC-licensed contractors and durable Goodman, American Standard, Trane, Carrier, Rheem, York and Amana heating and cooling products & parts.